---
You may also choose the "Non-Java" version of this site.
You can browse the data manually while waiting for the search indexes to load
---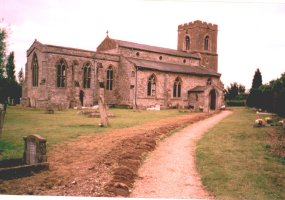 Welcome to the BINGE/BYNGE pages.
We are six cousins researching the same family from various parts of the world. Our research goes back to the middle of the 17th century in Swavesey,Cambridgeshire..there is earlier research on the Internet but it is suspect and has by no means been proven as yet. All the research on these pages can be verified. For the next hundred or so years the family can be found in Dry Drayton,Cambridgeshire..which is the picture on this welcome page. Sometime about 1850..the more intrepid members of the family found their way to Australia and New Zealand. The story is ongoing and we are contantly adding to it!
_______________________

The genealogy information at this site has entries for 104 individuals with 40 distinct surnames.
contact Pauline Dodd
---
The site was generated using webGED:Progenitor, Version 2.0, on 17 Mar 2003.