---
You may also choose the "Non-Java" version of this site.
You can browse the data manually while waiting for the search indexes to load
---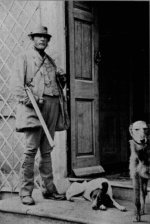 The ALDERSON family were known as the family of Gamekeepers.The Picture is of George ALDERSON my x3 Grandfather who was a gamekeeper at Grinton Lodge, North Riding.The family can be traced back in North Riding,Yorkshire to a dubious Miles ALDERSON..but a positive John Of KELD who was married about 1639..he was my x 8 grandfather. There is an ALDERSON Family History Society,the UK branch secretary can be contacted at: Godfrey C.ALDERSON,12,Masham Road,Harrogate,North Yorkshire,HG2 8QF..you are expected to become a member to receive help from their extensive database..the membership fee is £8 sterling.
_______________________

The genealogy information at this site has entries for 72 individuals with 35 distinct surnames.
contact Pauline Dodd
---
The site was generated using webGED:Progenitor, Version 2.0, on 7 Mar 2003.